Warning
: Undefined array key "file" in
/opt/bitnami/wordpress/wp-includes/media.php
on line
1676
Warning
: Undefined array key "file" in
/opt/bitnami/wordpress/wp-includes/media.php
on line
1676
Wide Range of Bosch Power Tools in UAE
One of the most trusted names in the industry, Bosch power tools are renowned for their quality and durability. From superior concrete and woodworking tools to innovative cordless technology, every Bosch power tool is built to the highest performance standards. At Central Motors & Equipment we have every tool for any job you will ever need to do. At Central Motors & Equipment we have every tool for any job you will ever need to do. CME is the Authorized Distributors of Bosch Power Tools across Dubai, Sharjah, .. UAE.
CME Authorized BOSCH Power Tools Dealer in Sharjah and serving across Dubai and the rest of the UAE. With the full range of professional power tools covering all trades CME is one of the best places to buy BOSCH power tools and accessories and different types of BOSCH products.
Professional Power Tools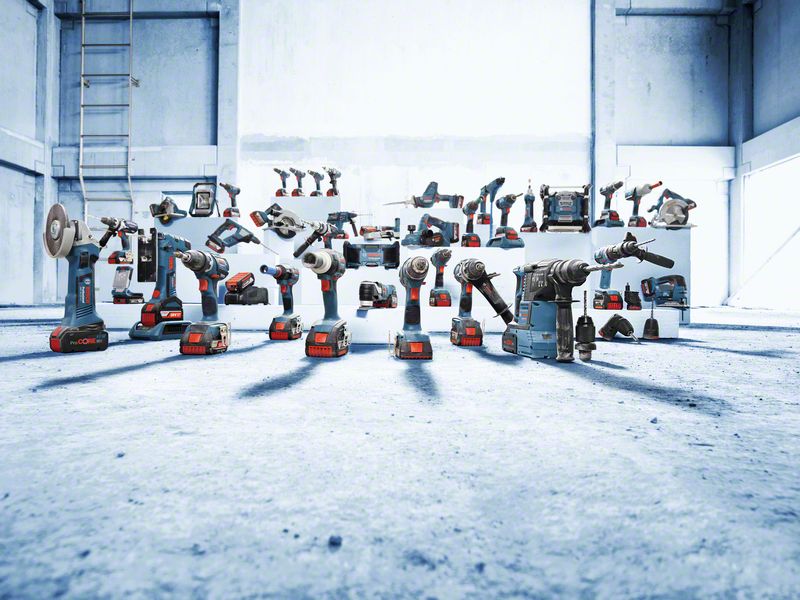 Engineered for excellence, professional blue power tools from Bosch always keep you one step ahead with the highest standards of speed, precision, and performance. Designed for optimal handling and efficiency, each power tool is as robust as it is reliable and handles even the toughest jobs.
Home & Garden Power Tools (DIY)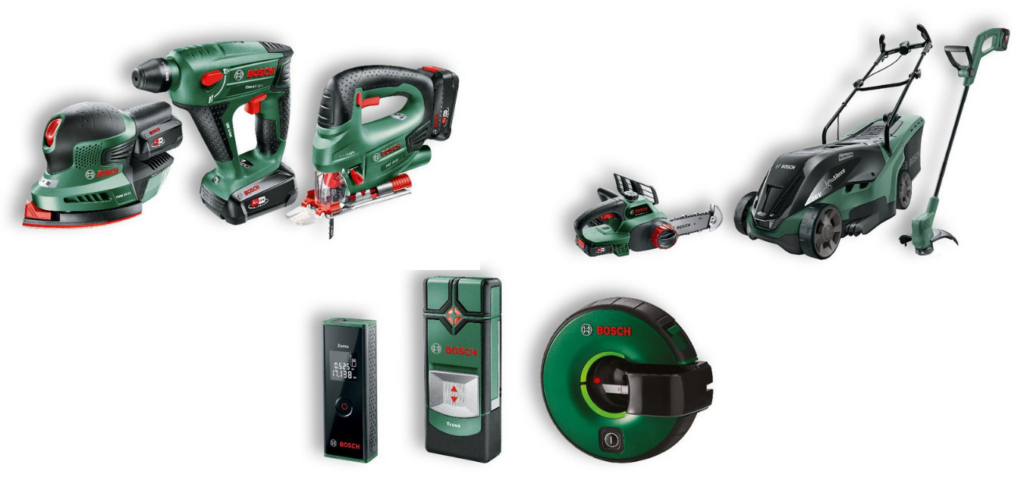 Renowned for their quality, durability, and precision, Bosch's range of power tools are easy to use and ensure you complete every project quickly and hassle-free. Whether you're renovating, building your own furniture or looking to make alterations to your home, Bosch's range of green power tools will stimulate your creativity. Designed for DIY enthusiasts, the tools' ease of handling ensures you complete the job quickly and hassle-free.
Power Tools Accessories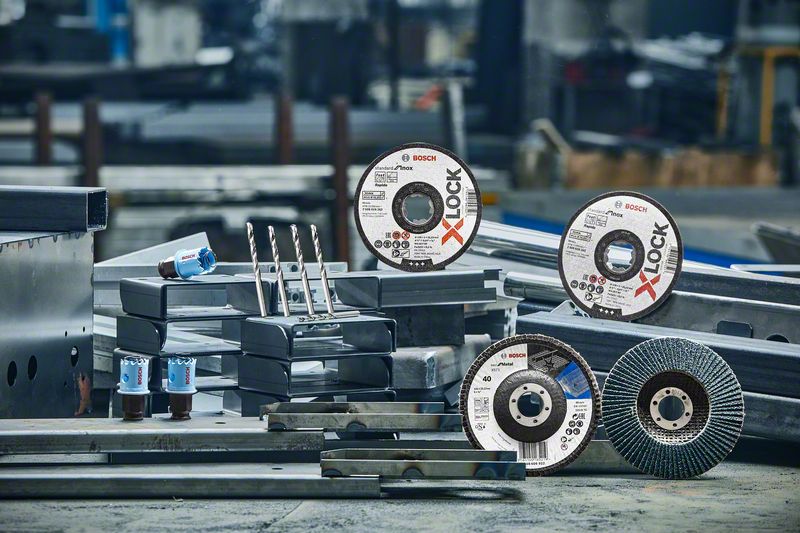 With a product range of over 8,000 different items, Bosch power tool accessories are ideal for all applications and brands of power tools. From replacement blades to new drill bits, screwdrivers, chisels or sanders, Central Motors & Equipment's inventory ensures you always have access to the right accessories for your power tools.
Screwdriver bits
Chisels and Sanding Accessories
Models
Professional Power Tools
The highest standards of speed, precision, and performance are engineered into every blue power tool from Bosch – the choice of the professionals.
Bosch Cordless Tools
Cordless tools with Bosch lithium-ion technology offer strong power and light weight. They serve you with unlimited freedom of movement and high performance in every voltage class. With the benefit of advanced battery technology, you can be sure you're getting a high-quality, versatile and dependable tool at a great value.
Drills and Impact Drills
Powerful enough to handle to toughest jobs, Bosch drills come with a durable chuck and deliver high torque, compact design and ease of handling.
Bosch impact drills are for professionals who need precision, versatility and power. With their ergonomic slim line design and reliability, they thrive on the most demanding of projects and applications.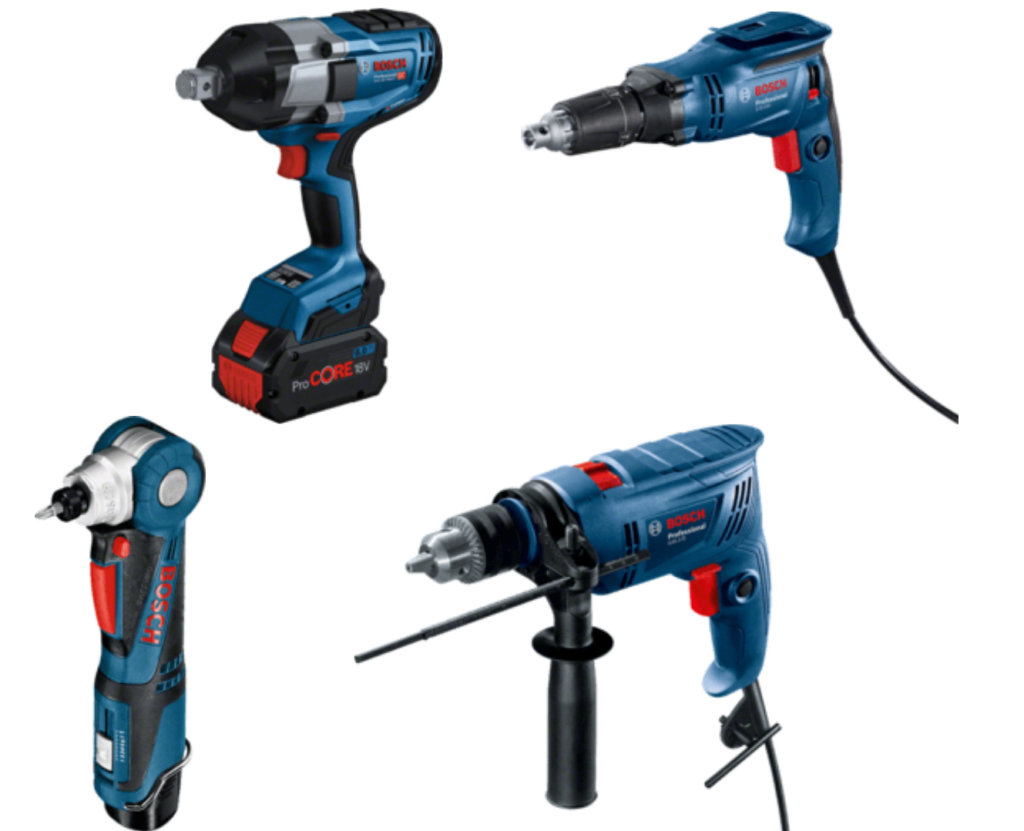 Drywall Screwdrivers and Impact Wrenches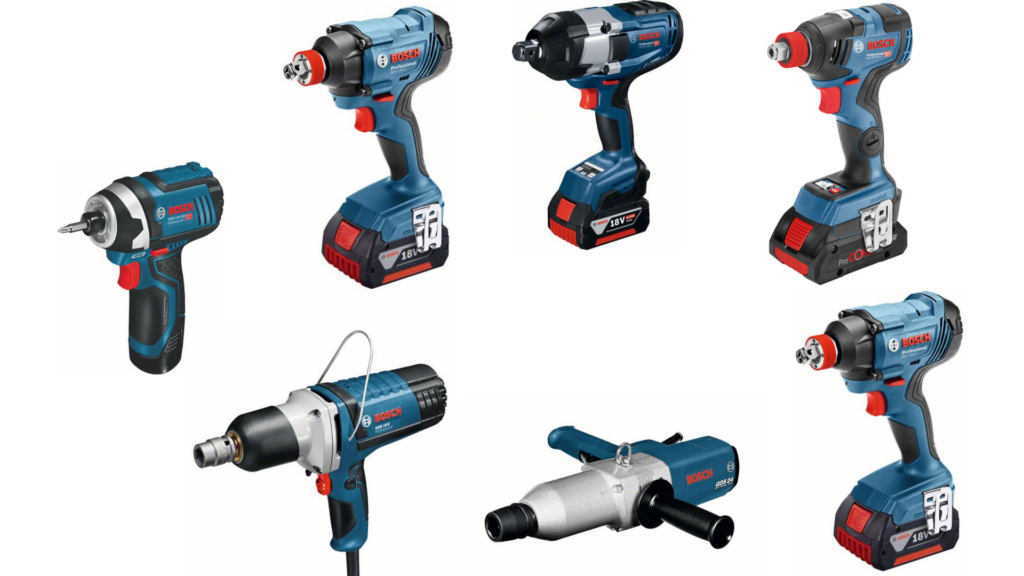 Robust, precise and quick screw driving capability for all types of drywall, Bosch's drywall screwdrivers range delivers exceptional comfort during use with any application.
Bosch impact wrenches possess the power, strength, and maneuverability for even the toughest jobs. Complete with an ergonomic grip for extended comfort during use, many Bosch impact wrenches are the best in their class.
Rotary Hammers and Demolition Hammers
Developed to tackle a variety of drilling jobs involving concrete, stone, and steel, Bosch rotary hammers have raised the bar when it comes to performance and durability.
Bosch demolition hammers suit any situation and offer quality, power, and performance. With variable speed control, constant hard-hitting impact, and padded handle, they are a must-have for professionals.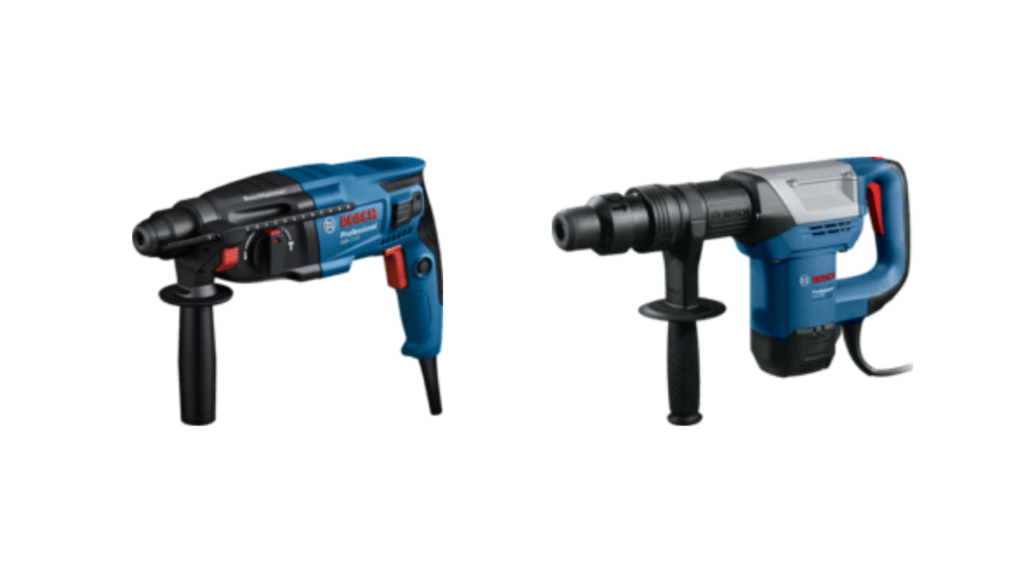 Angle Grinders and Metalworking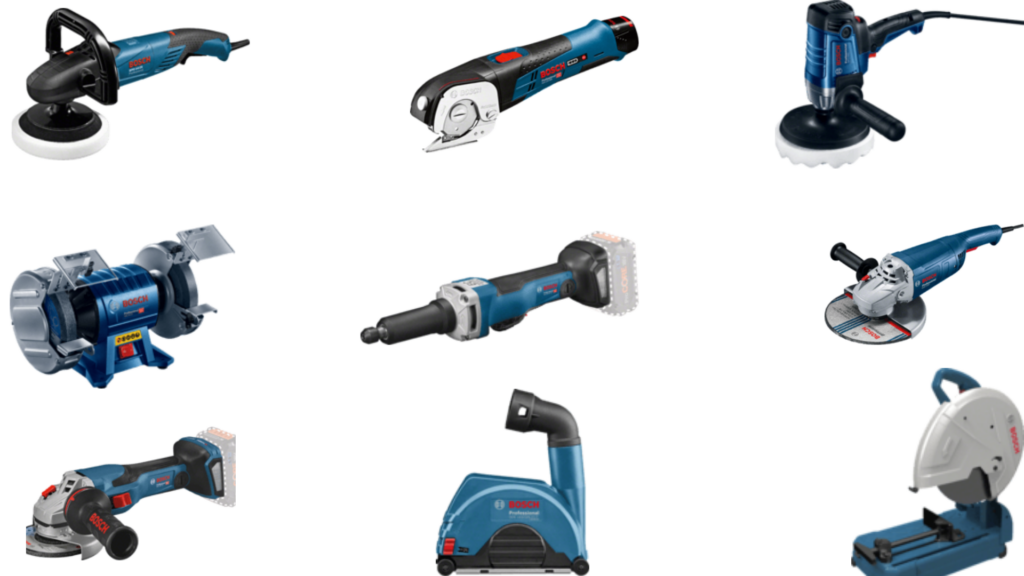 Equipped with powerful motors and impeccable, lightweight handling, Bosch angle grinders, and metalworking tools are invaluable when the job demands surface finishing and cutting the toughest materials.
Routers
Never compromising on precision whatever the material, Bosch routers enable exact groove, edge and copy routing through to bench top work. With high-torque motor and integrated dust extraction, you can be confident your job is in safe hands.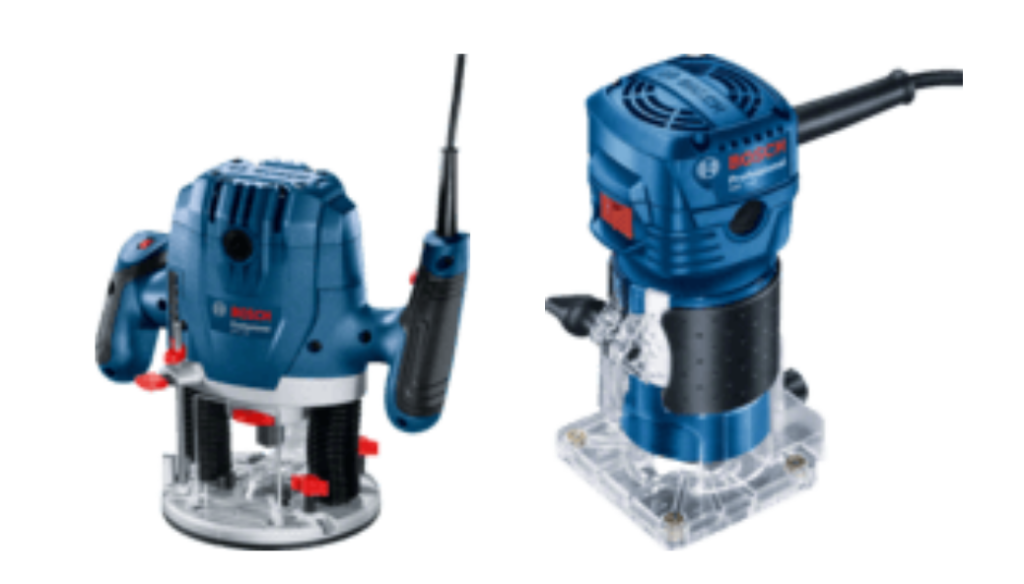 Saws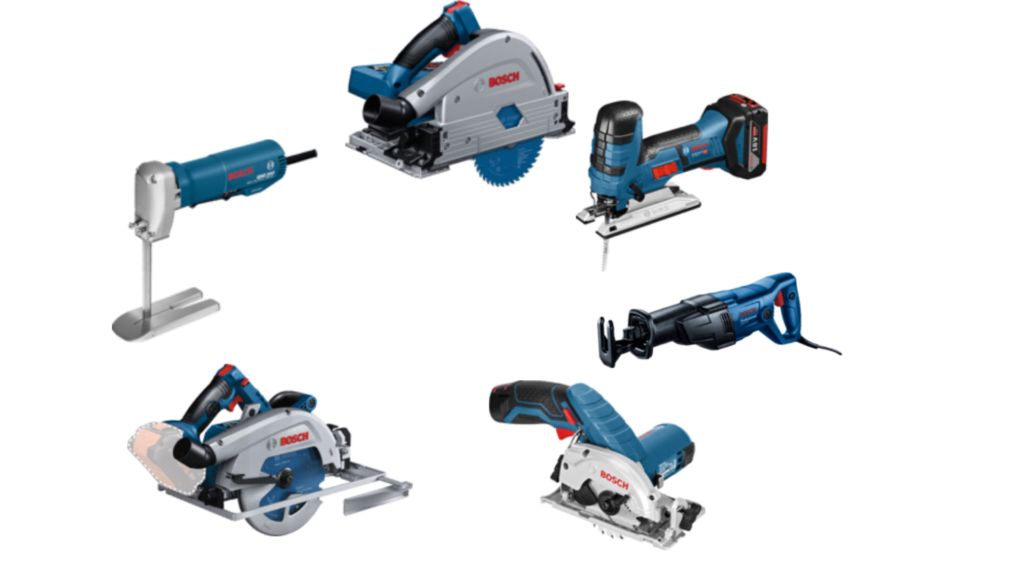 Whether metal or wood, Bosch saws deliver precise rip, mitre cuts, tight curves and powerful cutting length. With their ergonomic, balanced design, soft-grip handles and die-cast magnesium footplates, our range of Bosch saws provide comfort, control and accuracy when you need it most.
Measuring Tools
Measuring tools from Bosch offer outstanding precision and the greatest ease of use. Due to their robustness, the digital measuring tools guarantee the most accurate results also in day-to-day construction site applications – whether it be levelling, measuring distances, angles and inclines, or detecting all different kinds of materials.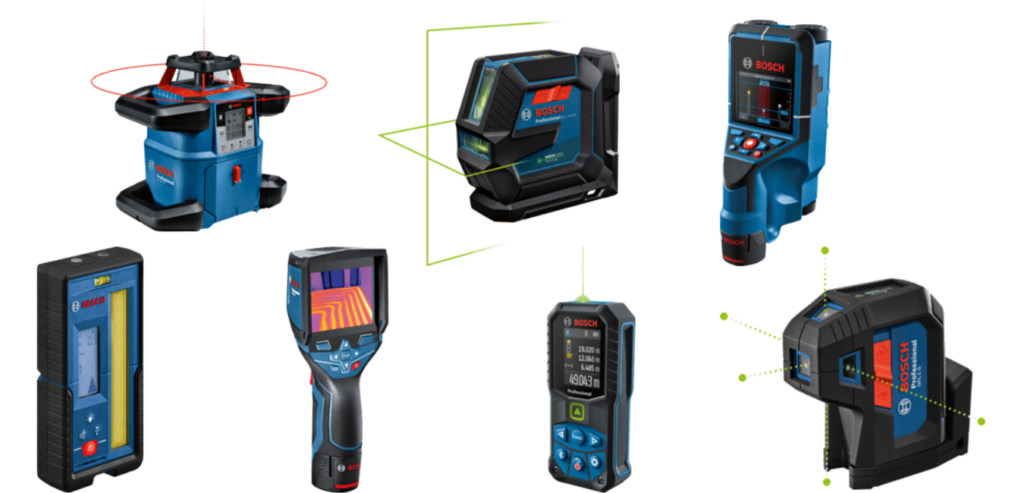 Sanders and Planers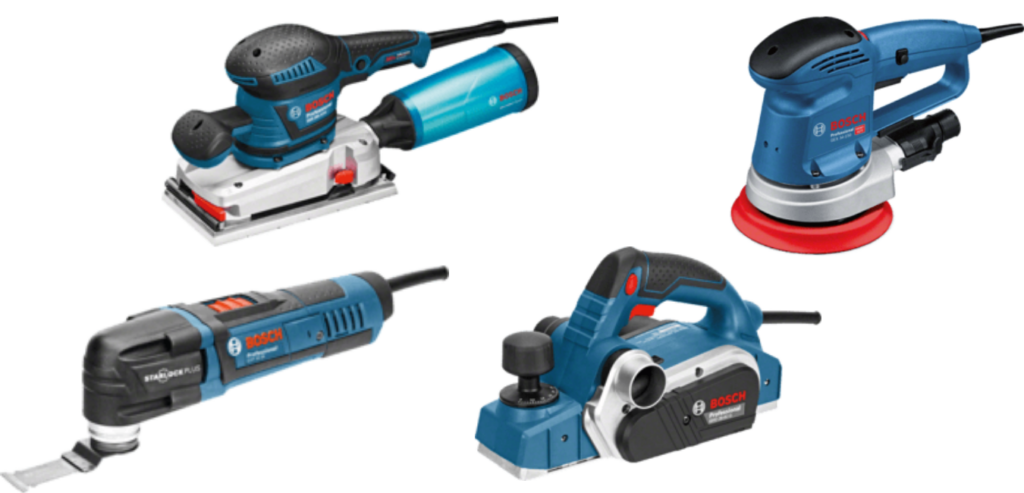 Whether high material removal rate or fine finish, large surfaces or hard-to-reach areas – Bosch offers the right power tool for any requirement in surface treatment.
Multi-Cutters
The Bosch multi-cutters enable perfect trimming, adjusting and repairing. The comprehensive range of accessories offers you an endless range of applications.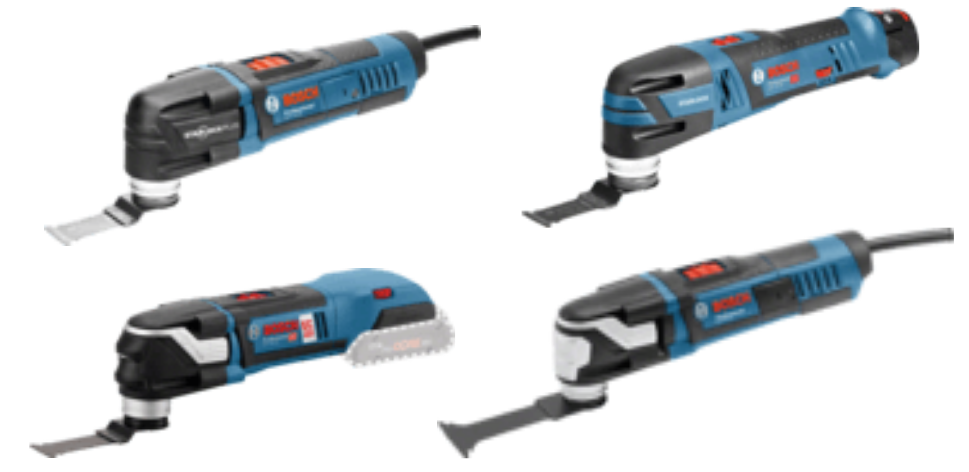 Tiling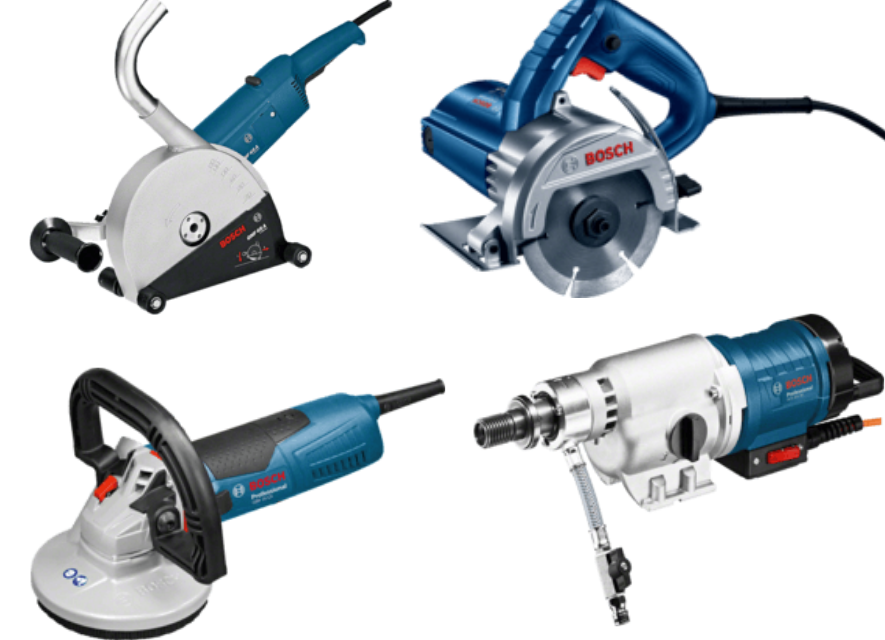 Bosch tile cutters and lasers ensure tiling floors and walls has never been easier. Effortlessly measure, score, and cut tiles of any size, angle and material with precision.
Dust Extraction Systems
Easy to handle, convenient to operate with powerful functionality, Bosch wet and dry extraction systems ensure your workspace is kept clean before starting the next phase of your job. Less dust means you can work faster and more accurately, are not exposed to potentially harmful particles and have a clear view of your working area.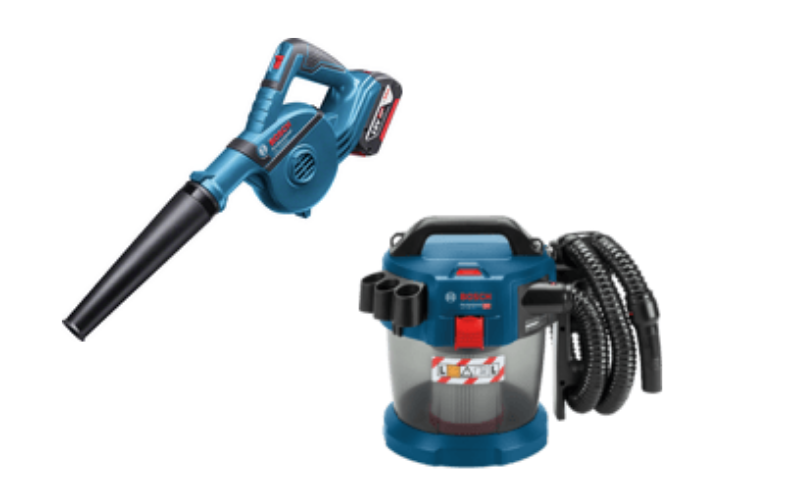 Heat & Glue Guns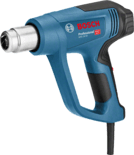 Stripping paint and varnish from any number of surfaces can be tough work, but not for Bosch's range of heat guns. With their continuously variable temperature control and removable heat shield, they deliver precise work, even in the tightest of spaces.
Emergency repairs to wood, textiles, metal, plastic, ceramic, glass, leather and more, Bosch glue guns quickly come to the rescue. Perfect for sealing and jointing, their design ensures clean working and stable adhesive bonding with electronically controlled heating elements and no dripping.
Garden Tools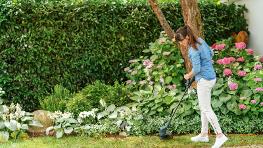 Whether it's cutting, trimming, shredding, watering, sawing, or cleaning, Bosch has market-leading garden tools to make your life easier.
IXO Cordless Screwdriver
Create unforgettable DIY moments with the IXO cordless screwdriver from Bosch. Small, lightweight, and compact, the IXO is the ideal, versatile tool for your day-to-day DIY projects.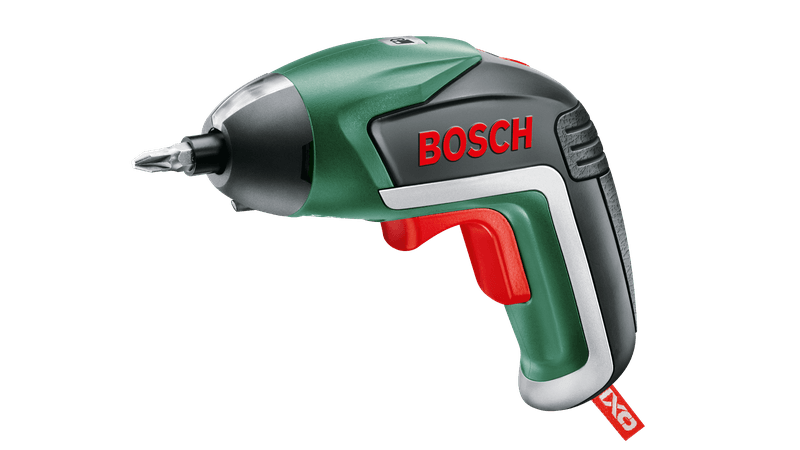 Bosch Multi-Functional Tools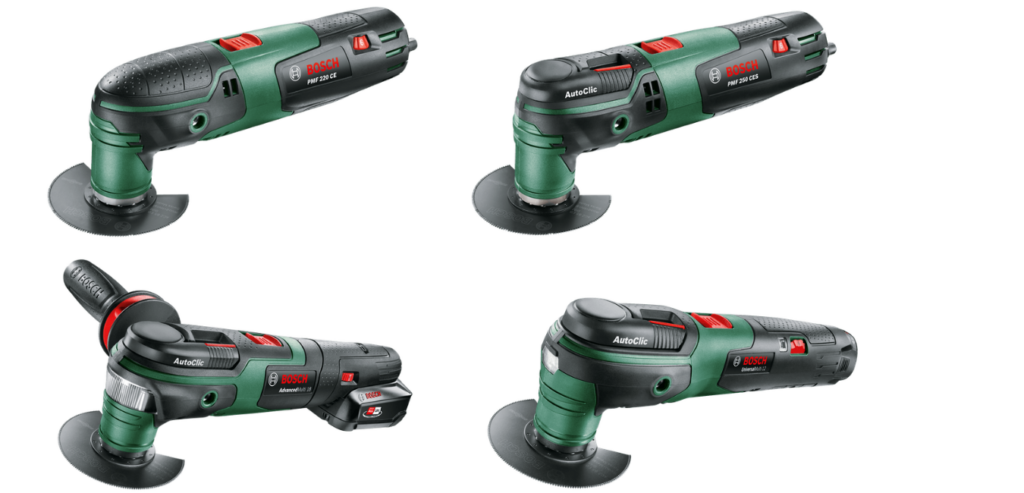 Bosch oscillating multifunction tools are ideal for tackling a wide variety of DIY projects. Cut, saw, sand, scrape, route, rasp, and polish across a range of materials such as wood, metal, or plaster, all with one tool and a wide range of optional accessories.
Bosch Paint Systems
Why use paint brushes when you can spray!? Easy-to-use ALLPaint spray system for fast results on small to medium projects
Bosch paint and fine spray systems can be used for multiple applications inside and out- and are ideal for DIY-ers with little previous experience of spraying.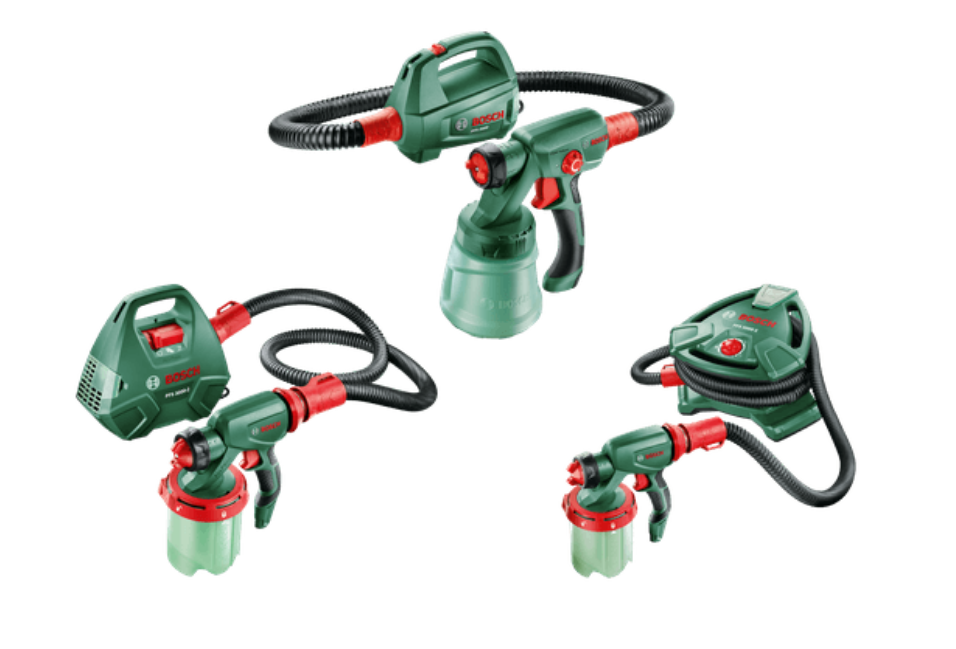 Cordless Garden Tools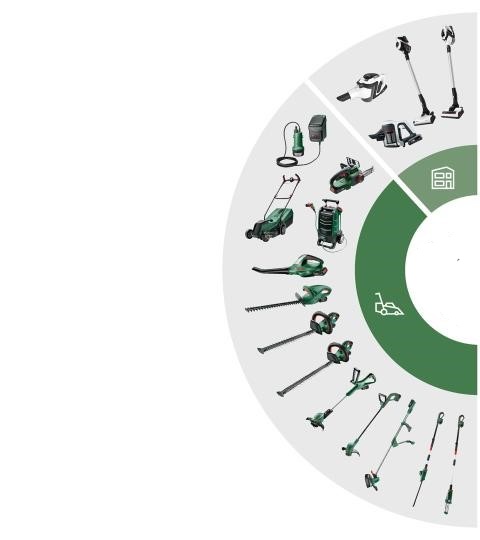 No more dangling cables or fuel refuels to worry about. With Bosch cordless garden tools you get the same performance levels as a petrol- or electricity-powered tool, but with noise reduction and none of the inconvenience.
Lawn Care
Enjoy effortless handling with Bosch's range of cordless and electric lawn care tools. Extremely fast charging, powerful, always ready to use and delivering outstanding cutting performance and debris collection due, your lawn will always achieve the perfect finish.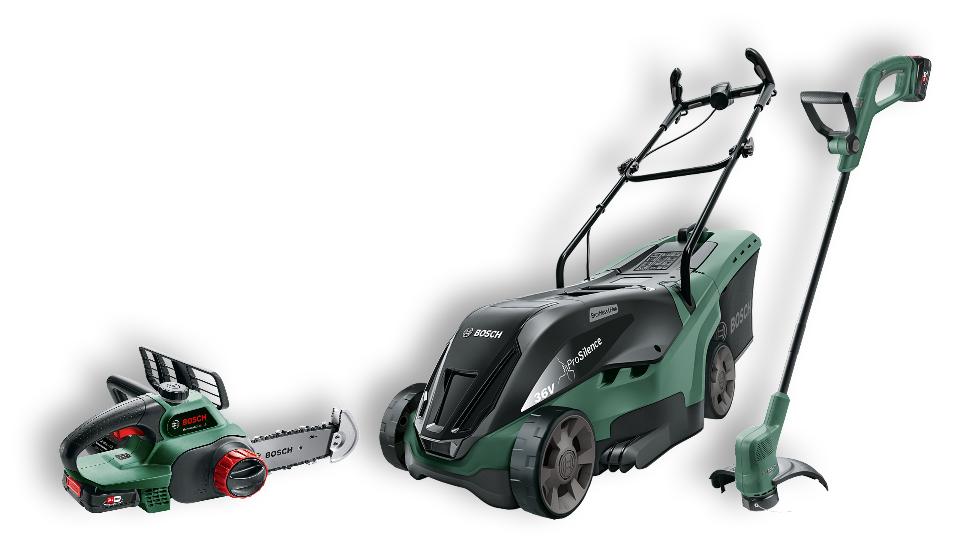 Hedgecutters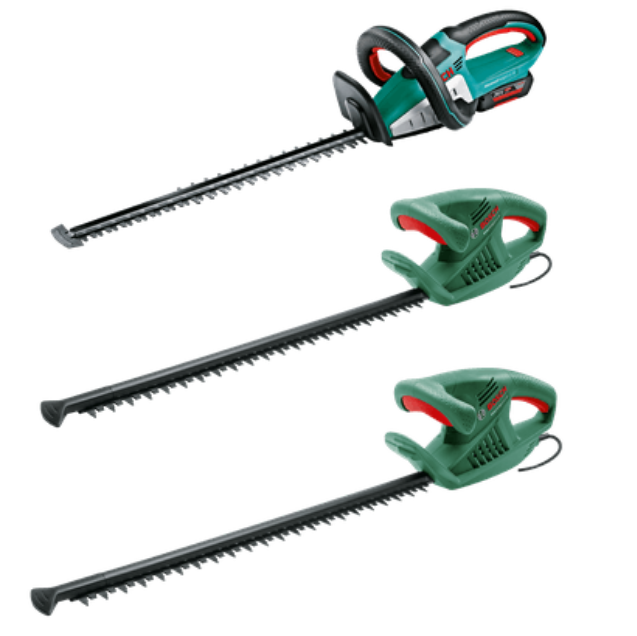 Bosch hedgecutters make keeping your hedges, bushes and trees easy. Lightweight, ergonomically balanced and offering freedom of movement with a variety of cordless options, your Bosch hedgecutter will keep your greenery perfectly manicured.
Shredders
Depending on your garden size, frequency of use and type of foliage, Bosch has a range of shredders for every type of garden material. Choose between rapid shredders – with their fast feed hopper for rapid material throughput for green and soft garden materials, or quiet shredders that have automatic feed and produce low noise levels.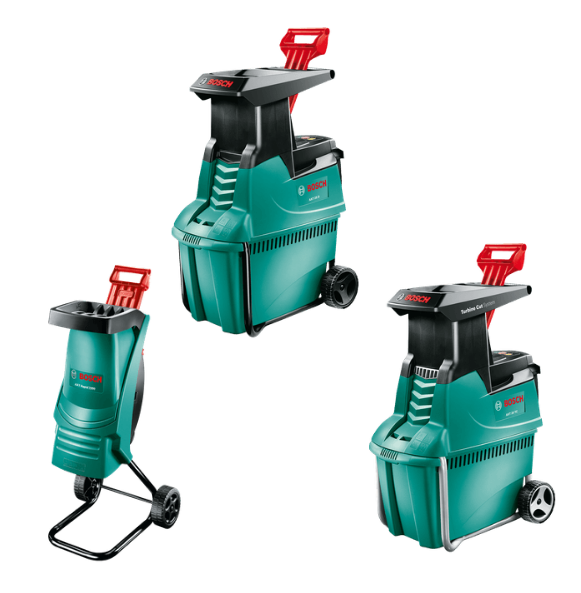 Chainsaws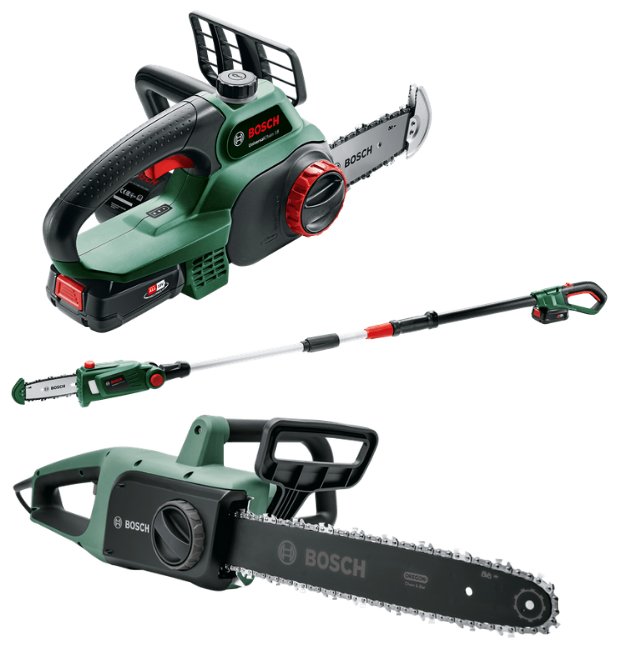 Bosch chainsaws are available in electric and cordless options, and all are equipped with a premium performance motor and high torque. With a market leading chainsaw in your hands, you have all the power you need to cope with any task in your garden.
High-Pressure Washers
Exceptionally powerful motors, robust metal pumps, a wealth of integrated features and an extensive range of system accessories. Bosch high-pressure washers are perfect for cleaning courtyards, driveways and patios, as well as cars, garden furniture and bikes.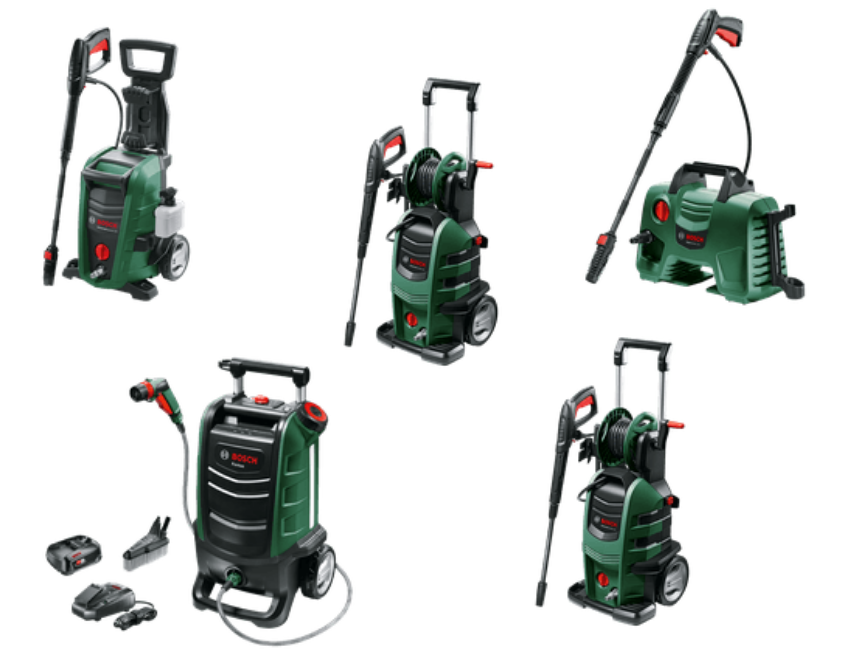 Useful Links
To explore our range of product catalogues, please visit our principle website below: